Seattle-Tacoma International Airport
Location
Seattle-Tacoma Airport
Contact Information
Sea-Tac Airport Information:

206-787-5388
Sea-Tac Airport Address:
Seattle-Tacoma International Airport
17801 International Blvd. - (Pacific Highway So.)
Seattle, WA 98158 ?
U.S.A.
Sea-Tac Airport Mailing Address:
Seattle-Tacoma International Airport
P.O. Box 68727
Seattle, WA 98168
Sea-Tac Airport
Terminal Map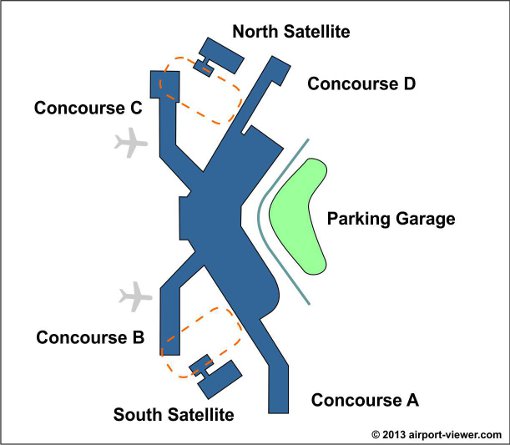 The airport has a Central Terminal building with four concourses (A–D) and two Satellite Terminals (North and South). The satellite terminals are connected to the central terminal by an underground people mover system running every few minutes. There are three main checkpoints at Sea-Tac and a fourth that is opened as needed during peak periods. Once through security, passengers have access to all gates.
Please contact the respective airline to confirm arrival and departure terminal and gate.
Sea-Tac Airport
Parking
More than 9,000 parking stalls are available in the parking structure adjacent to the main passenger terminal at Seattle-Tacoma International Airport. Hourly, daily, weekly, and extended use parking is available.
General Parking is available on five floors of the airport garage - 3, 5-8. The rate is just $3 an hour with a maximum of $28 for up to 24 hours and a special weekly rate of $130. Parkers can use General Parking for both short- and long-term stays.